Particular Mo(ve)ments - story objects and decoration
I'm so happy and honored to have been part of such an amazing an interesting project as Particular Mo(ve)ments, made by Nya Rörelsen together with Event Horizon.
The story invites the visitor into a VR-world and step by step they will be guided into the quantum vacuum of a black hole. The quantum vacuum is not empty; like the moment just before something happens, it is full of possibilities, and particles of matter and antimatter pop in and out of existence. The fear and attraction of the unknown. To take the step in or out; of meetings, of change and transitions in the contellations that arise constantly - even within ourselves - and what we need to create our universe.
My own humble contribution to this amazing project has been an interactive decoration for the entrance as well as props for the dancers to use in their meetings with the audience. The following images thus show only my own process with the objects, and only reflect a small piece of the work.
More information about this project can be found here. Particulat Mo(ve)ments was to have its premiere in November 2020, but due to the pandemic it has been postponed.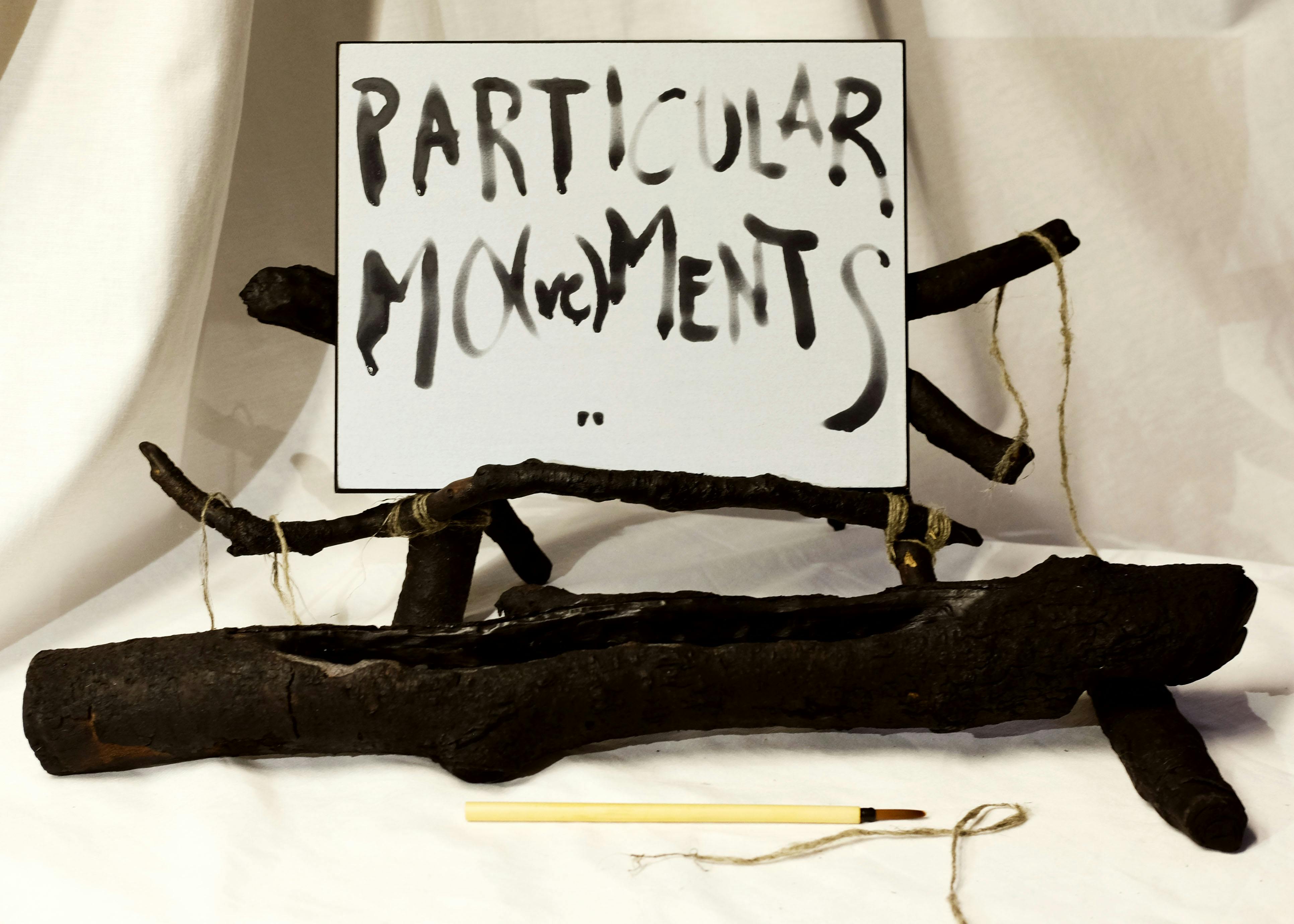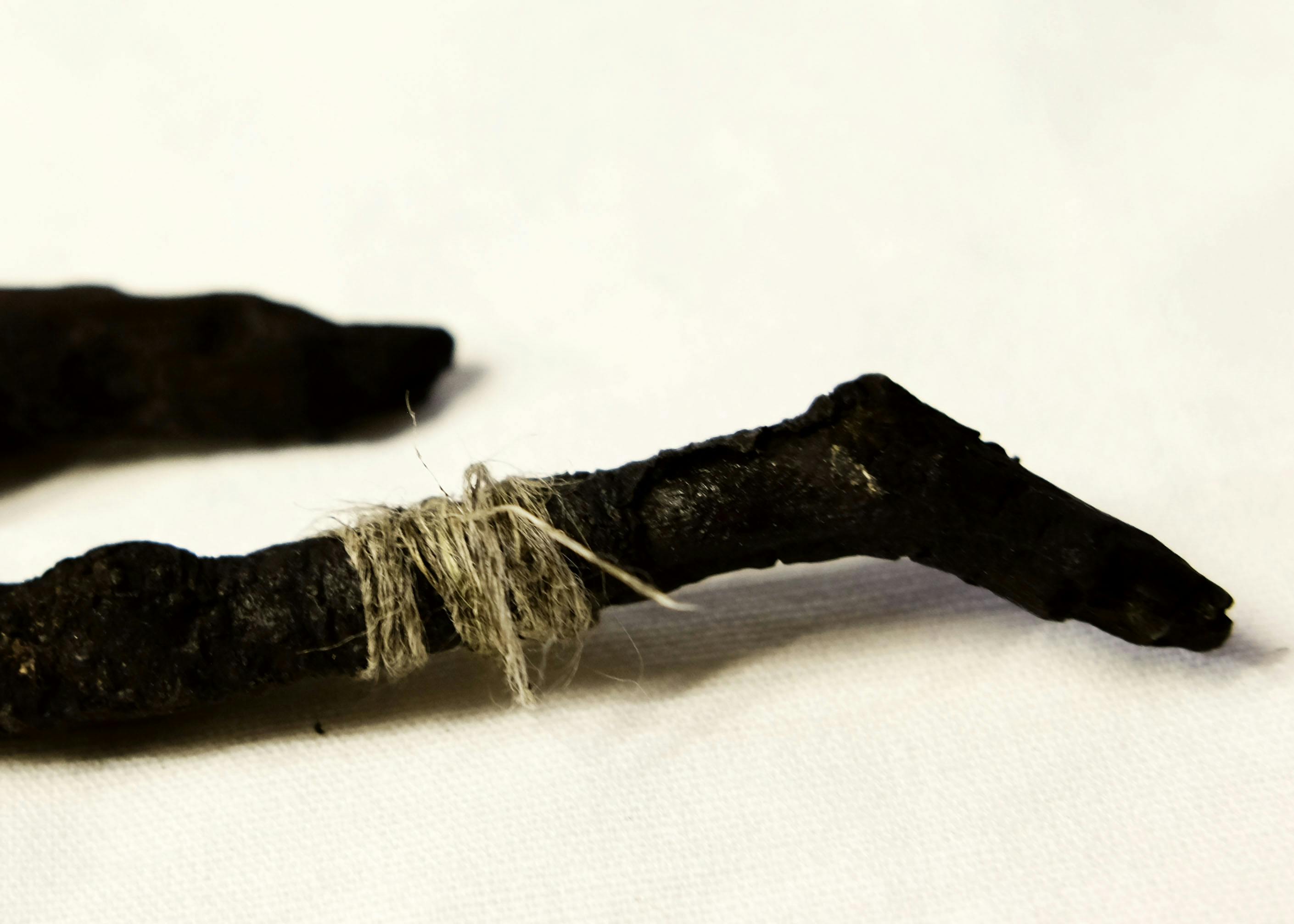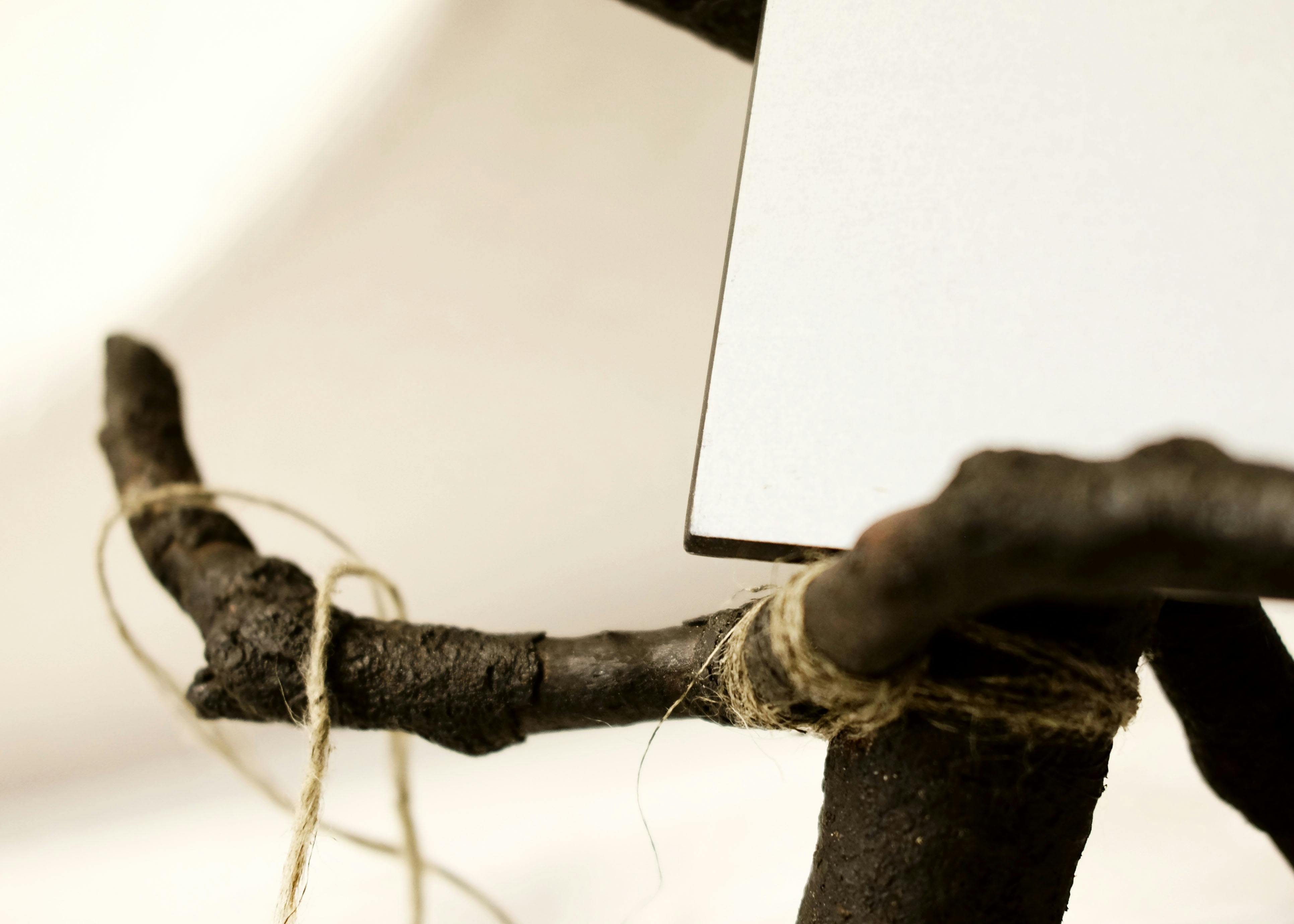 In the lobby, while awaiting your turn, you as a visitor will meet a table on which stands a frame and a single, blank sheet. Some shapes have fallen around, something light twists about, and as you look closer you will see that the black is burnt, charred branches. Thin, fine fibers make their own way over the table. Sometimes they hold together the black lumps, sometimes they fall apart and don't cooperate at all. Among the shapes lies the biggest; a black log, and right next to it: a brush.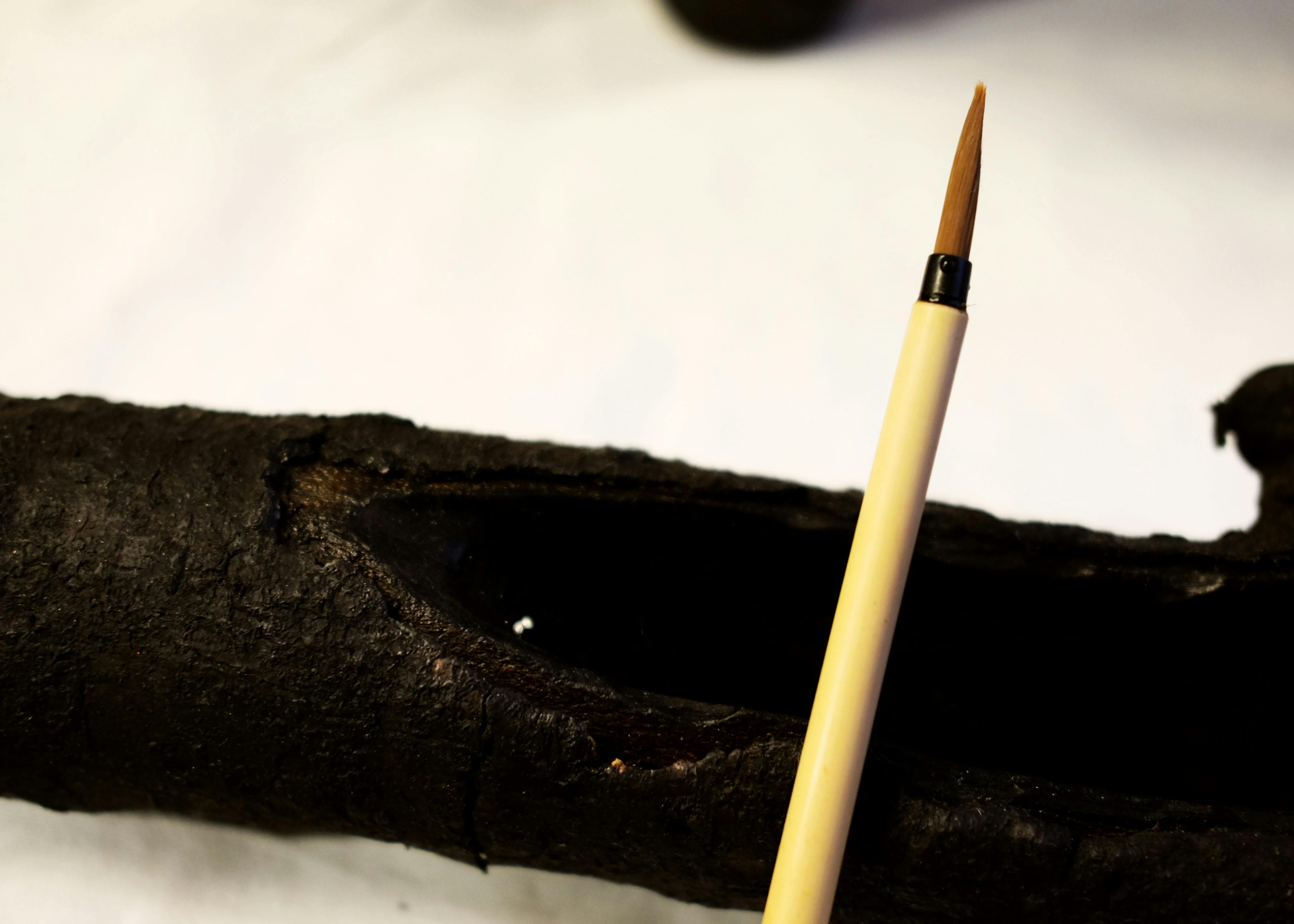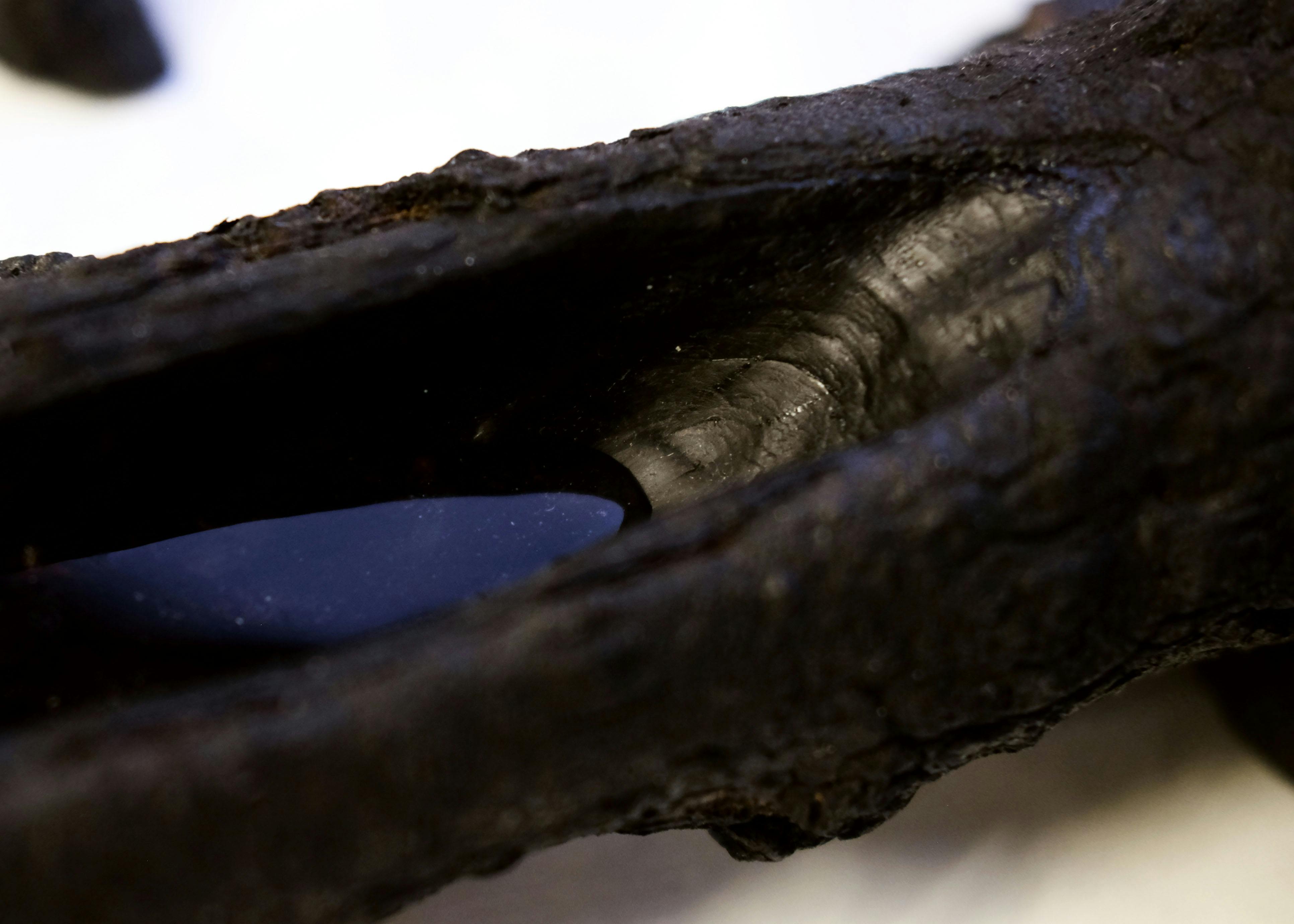 As you lean closer, you see that the log is excavated and filled with water. It's an entrance: the brush lies right besides and the strict, white frame is blank.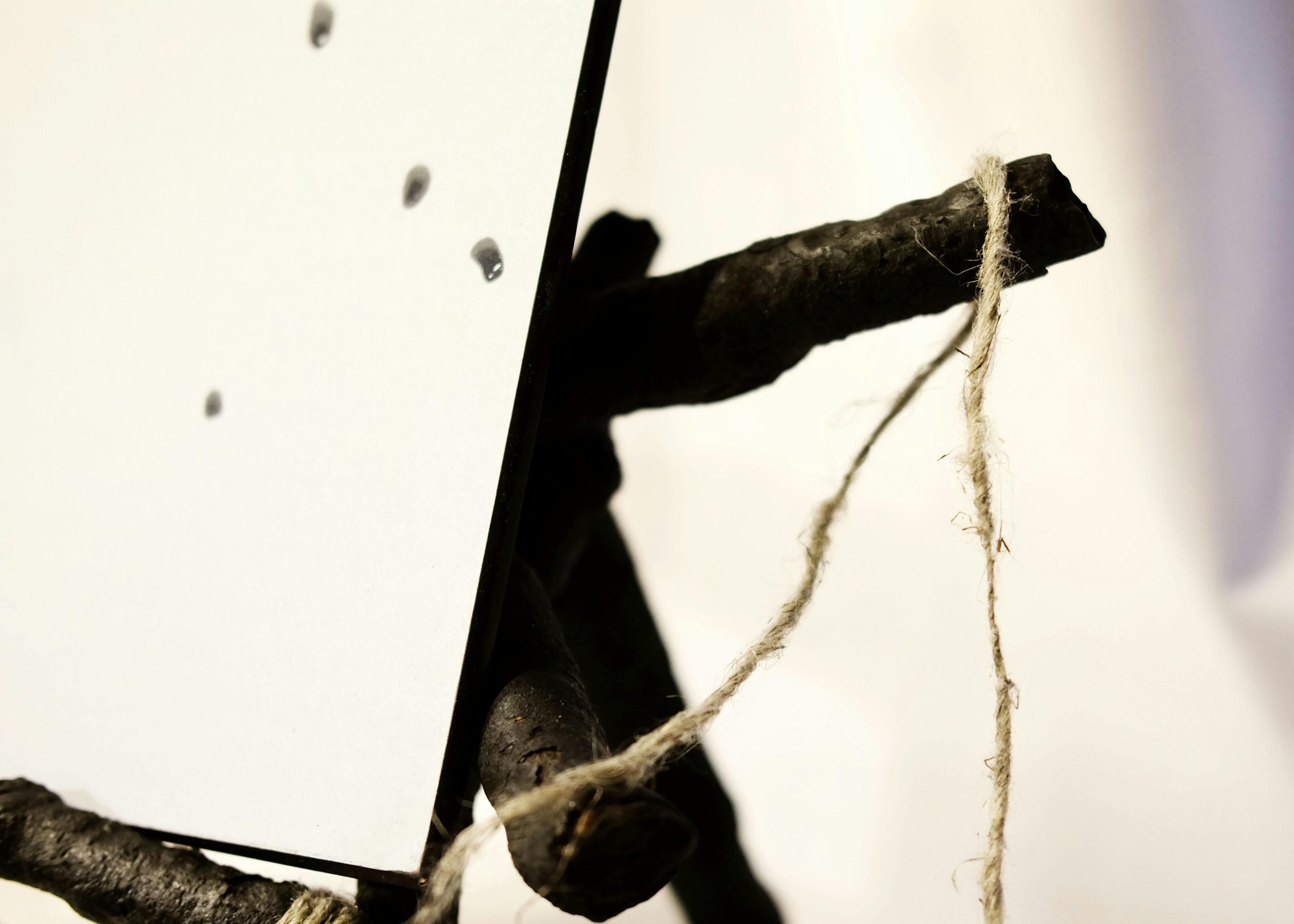 As a visitor you're invited to leave your own mark on the white frame. The frame is a so called Buddha board; water will make the surface black, as if you painted it with ink. As the water evaporates, the letters will fade and you will get to see how the mark you've left is fading.

It is here that you get a moment to yourself, in stillness and contemplation. What would you like to leave? What are you longing for? What are you afraid of?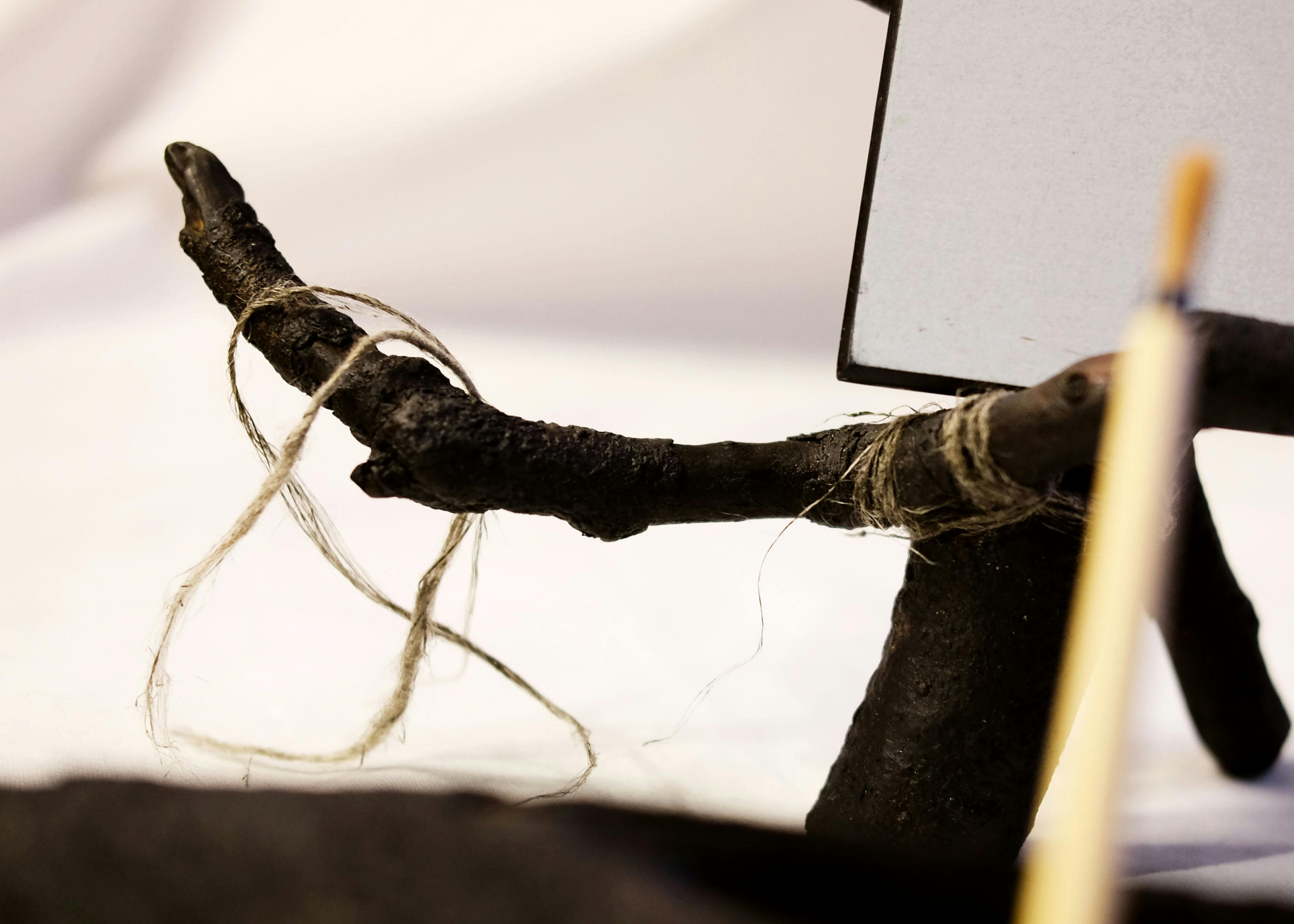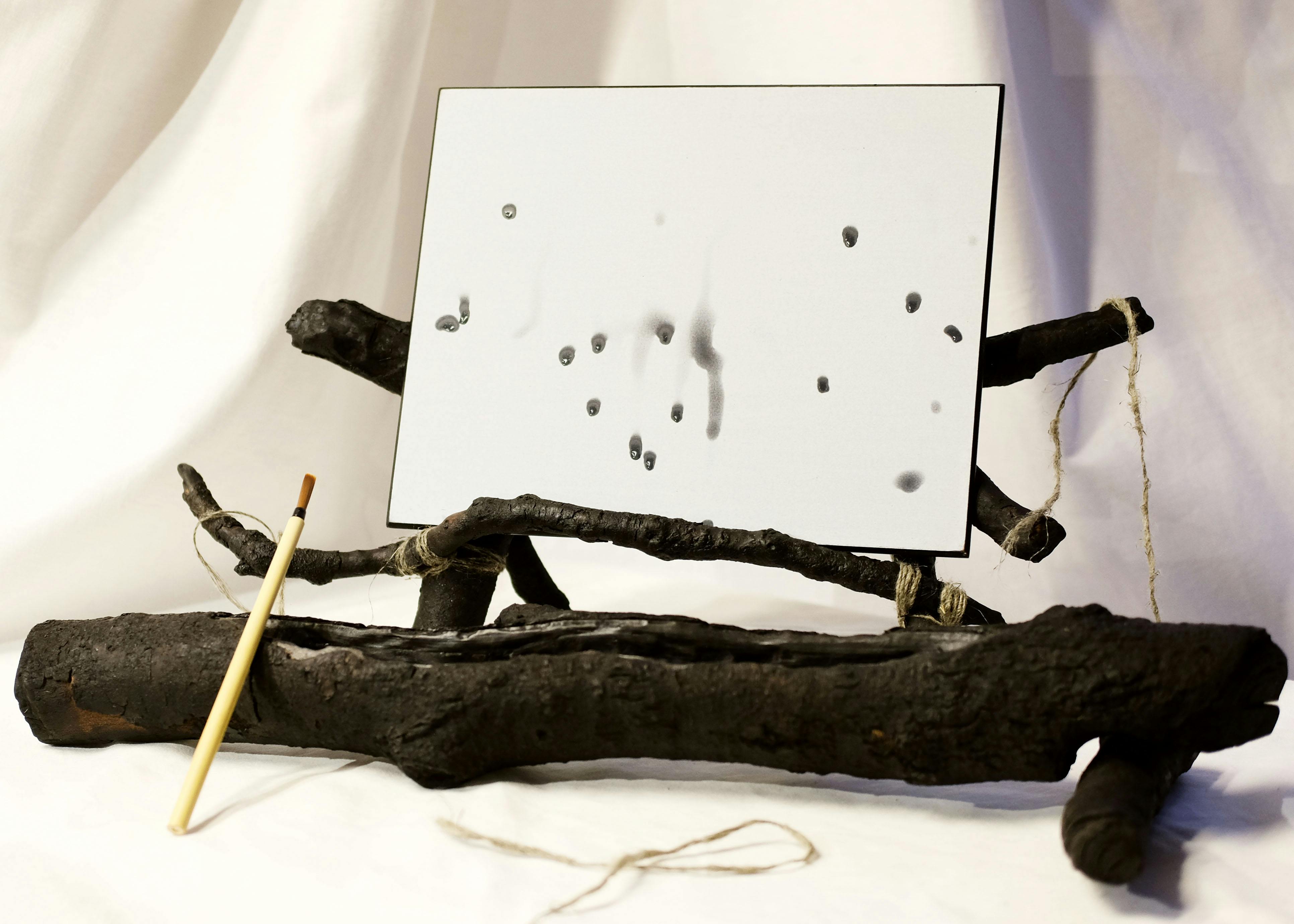 In not too long, your turn will come and you will get to follow along into the performance: into the darkness, the quantum vacuum. Into the beginning and the end.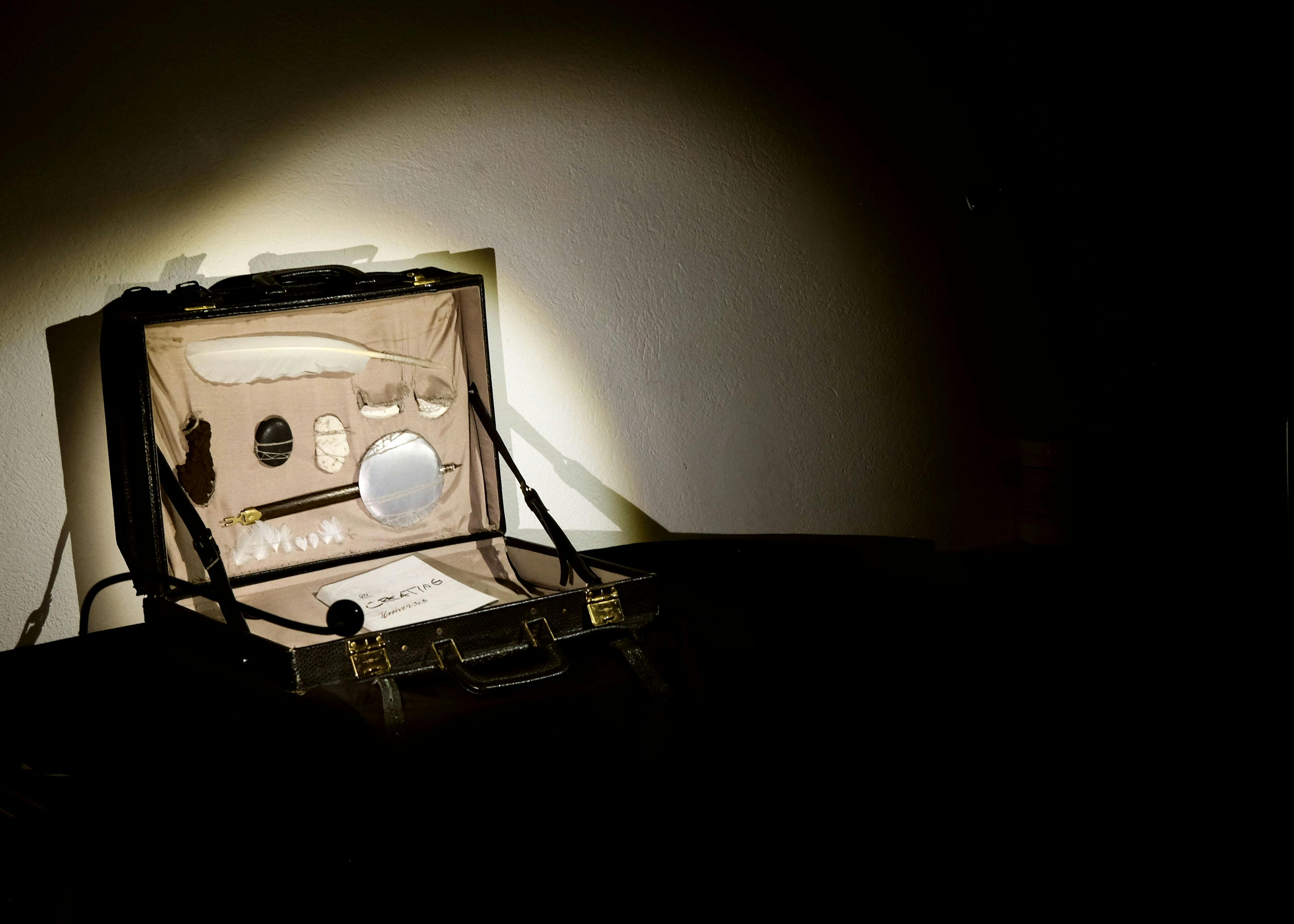 I do not know who you will meet in the vacuum, which shape the figure will take just for you.
In my work I got to meet the Traveller, and it is for them and their wishes that I have materialized these objects. From their experience, vague memories, dreams and intangible language I have picked out the bits and pieces that the Traveller carries. In the end they all fit in a time-worn suitcase. At the same time the objects also changed the suitcase with buckles, pockets and secret compartments.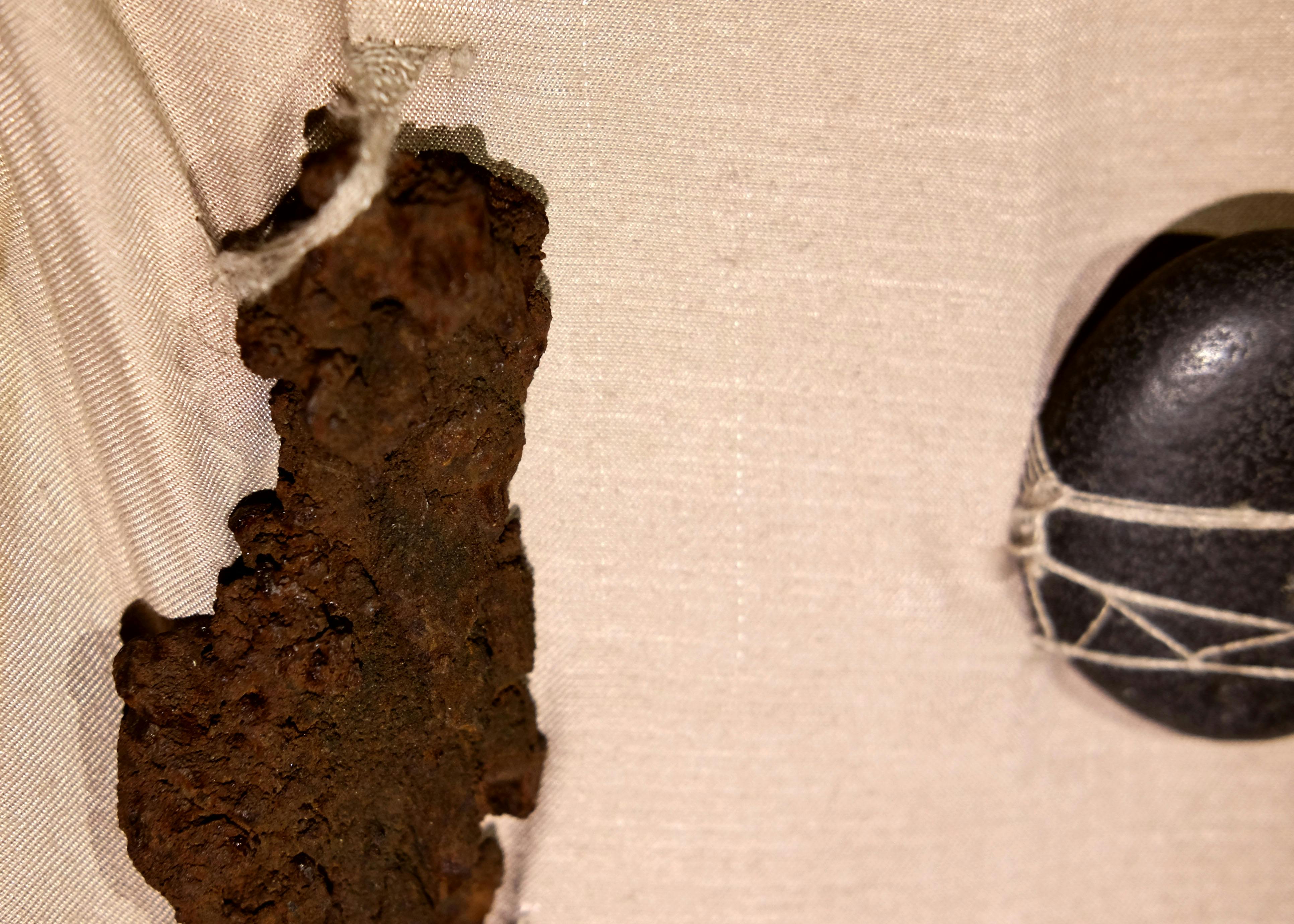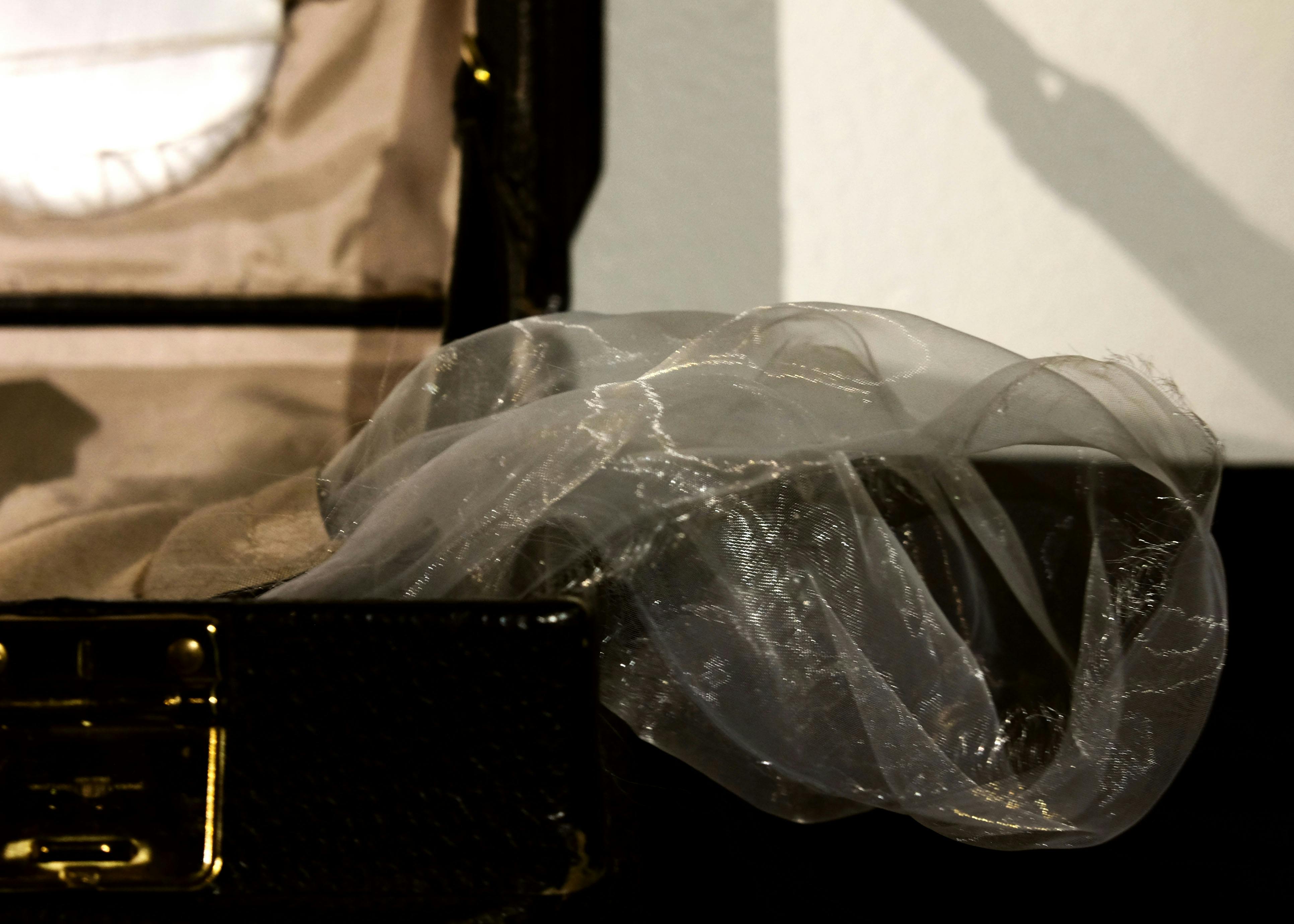 Shapes take place, spring out and fall in. What you will meet, along with the Traveller, will vary from time to time. The Traveller has packed both light and crumbly coral, black and smooth lava rock and rugged, rusty iron. From the pockets all sorts of particles may fall out. Sometimes it might be misleadingly alike white salt chrystals, sometimes maybe it's black poppy seeds. In the quantum vacuum anything can happen. Everything can become everything.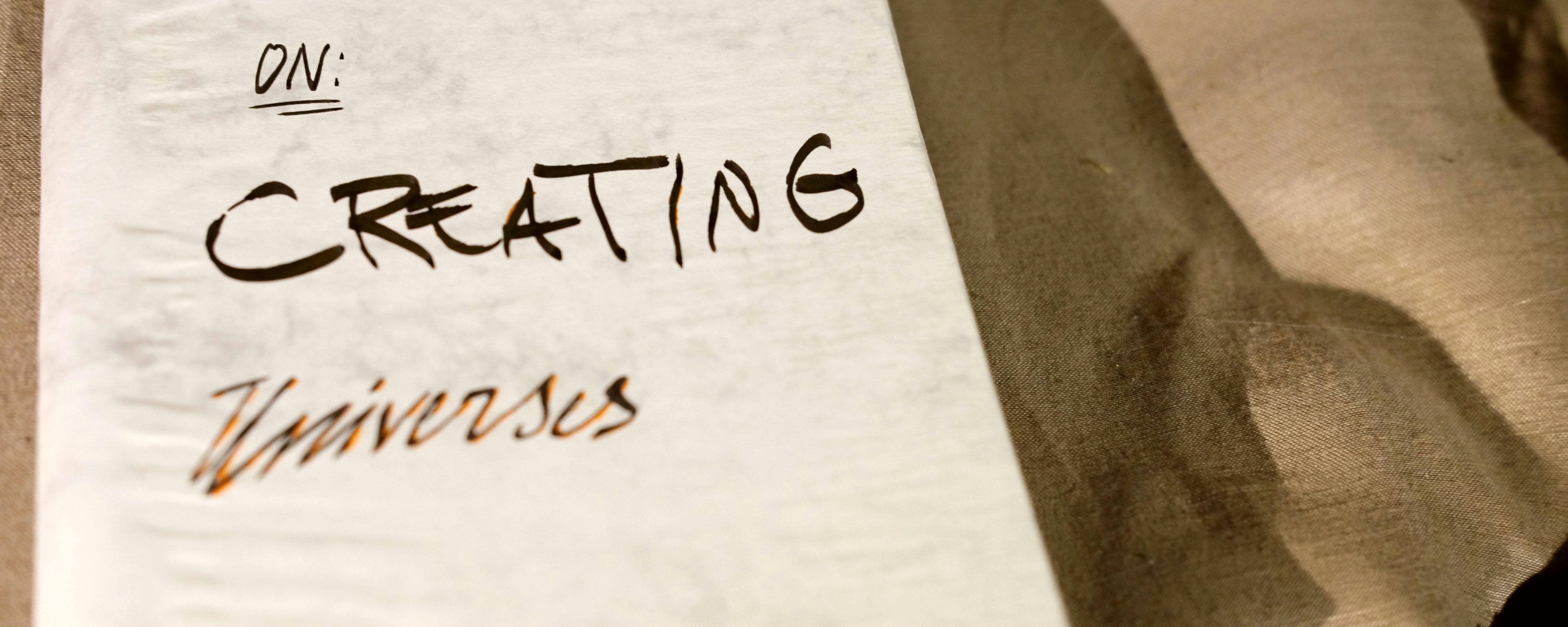 The Traveller has understood it all. Through their travels, the Traveller now knows what it takes to build a universe. From the smallest fragment of existence to magnificent worlds. Sometimes the Traveller's lanuage is intelligible to us, sometimes not.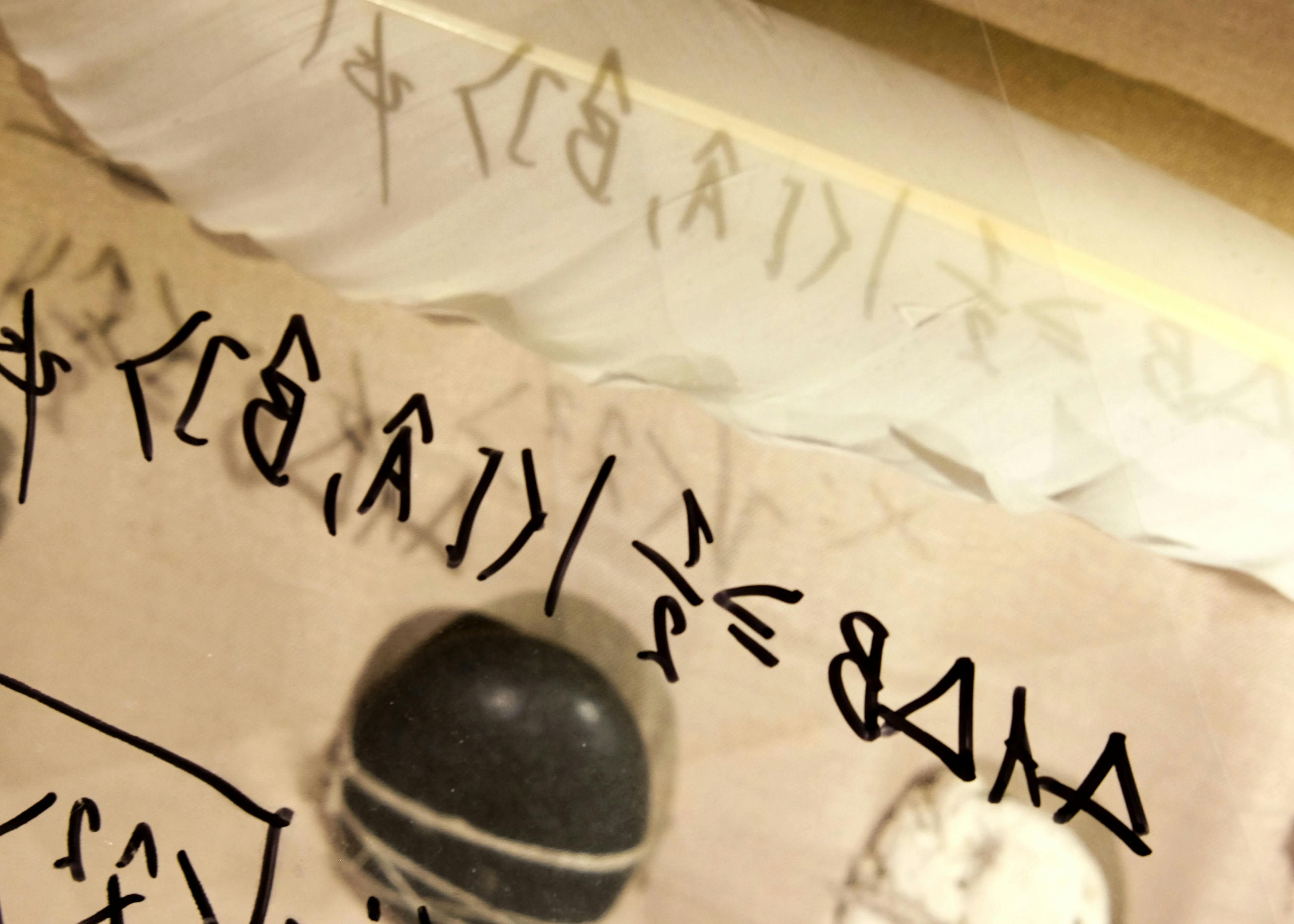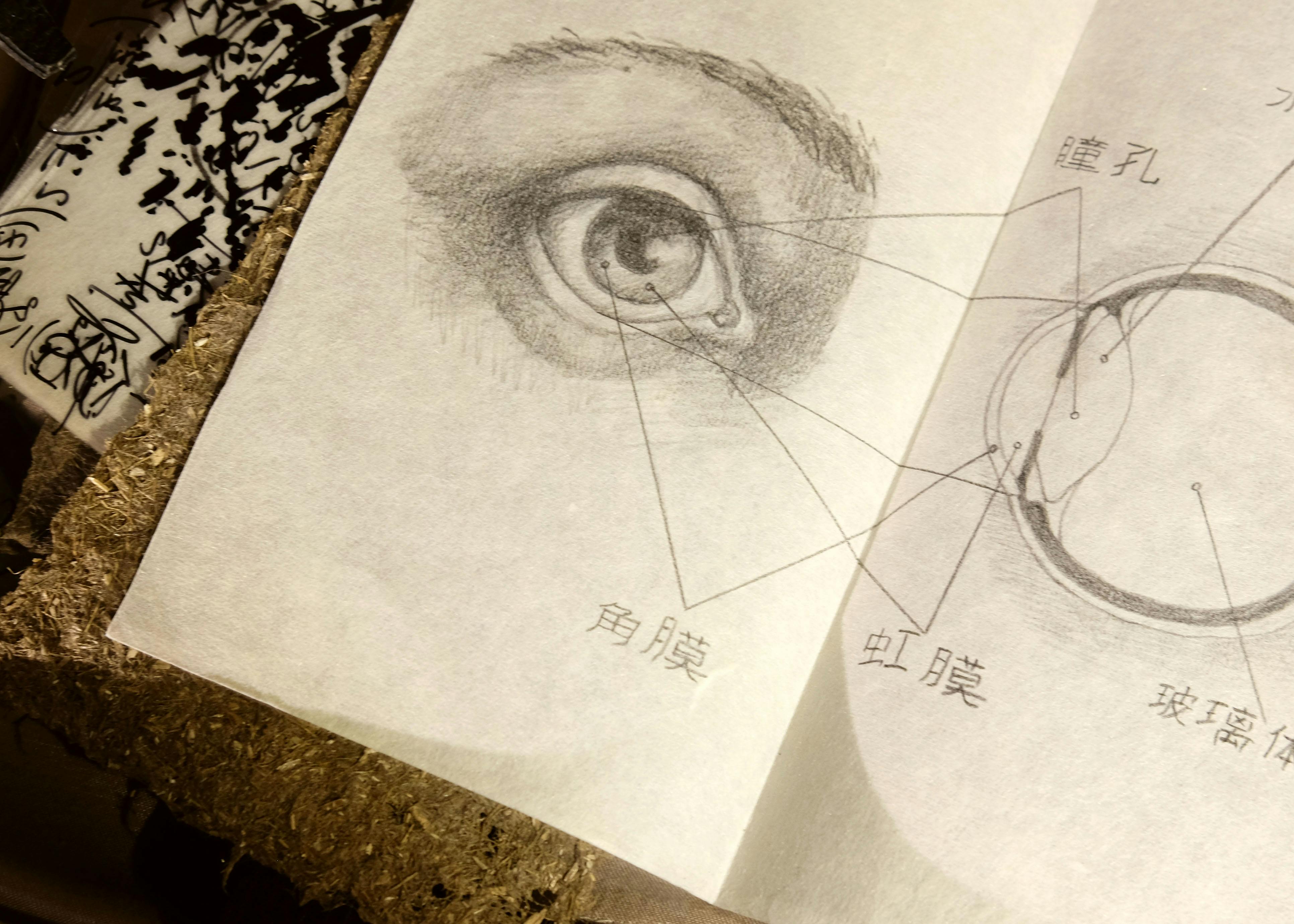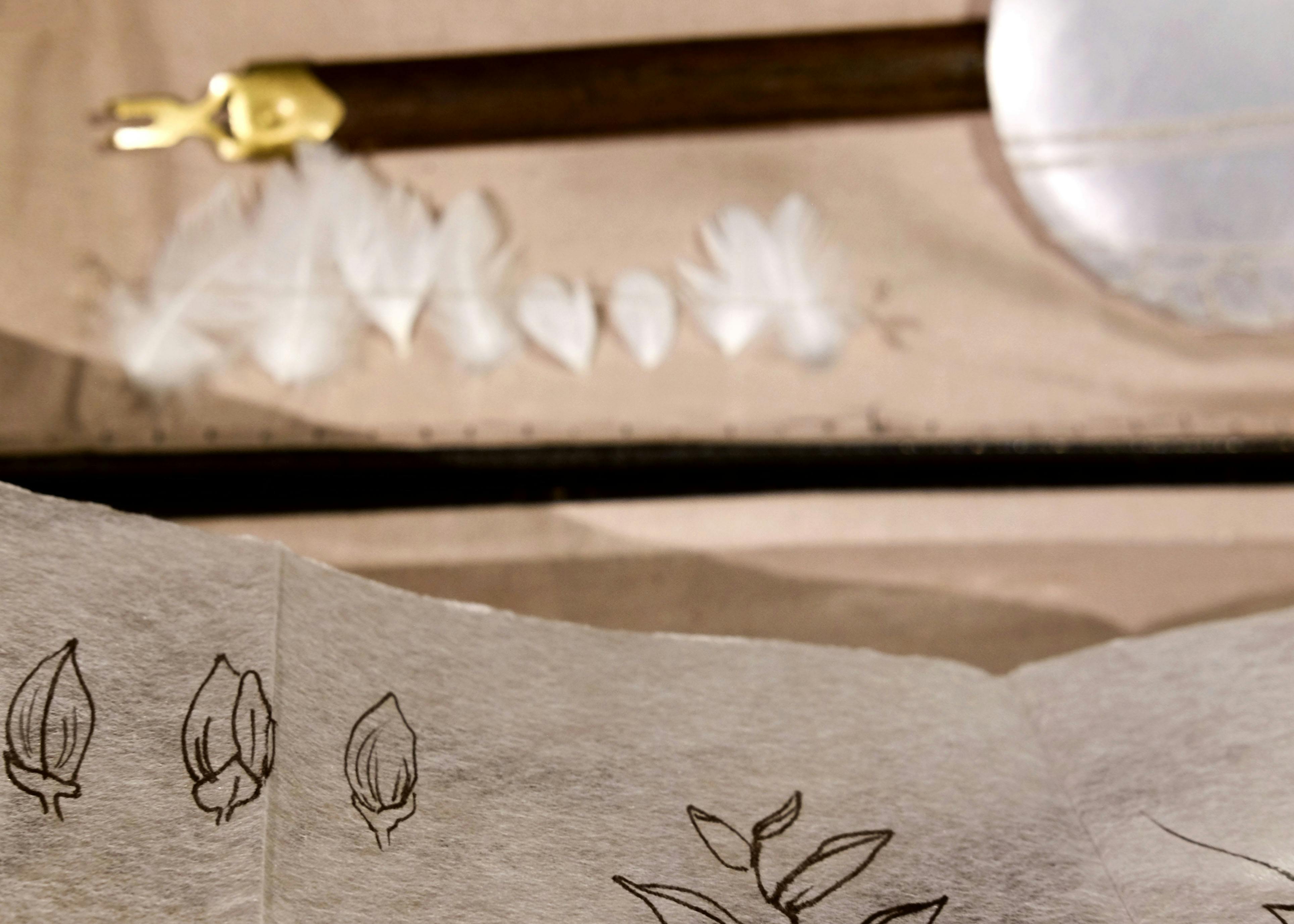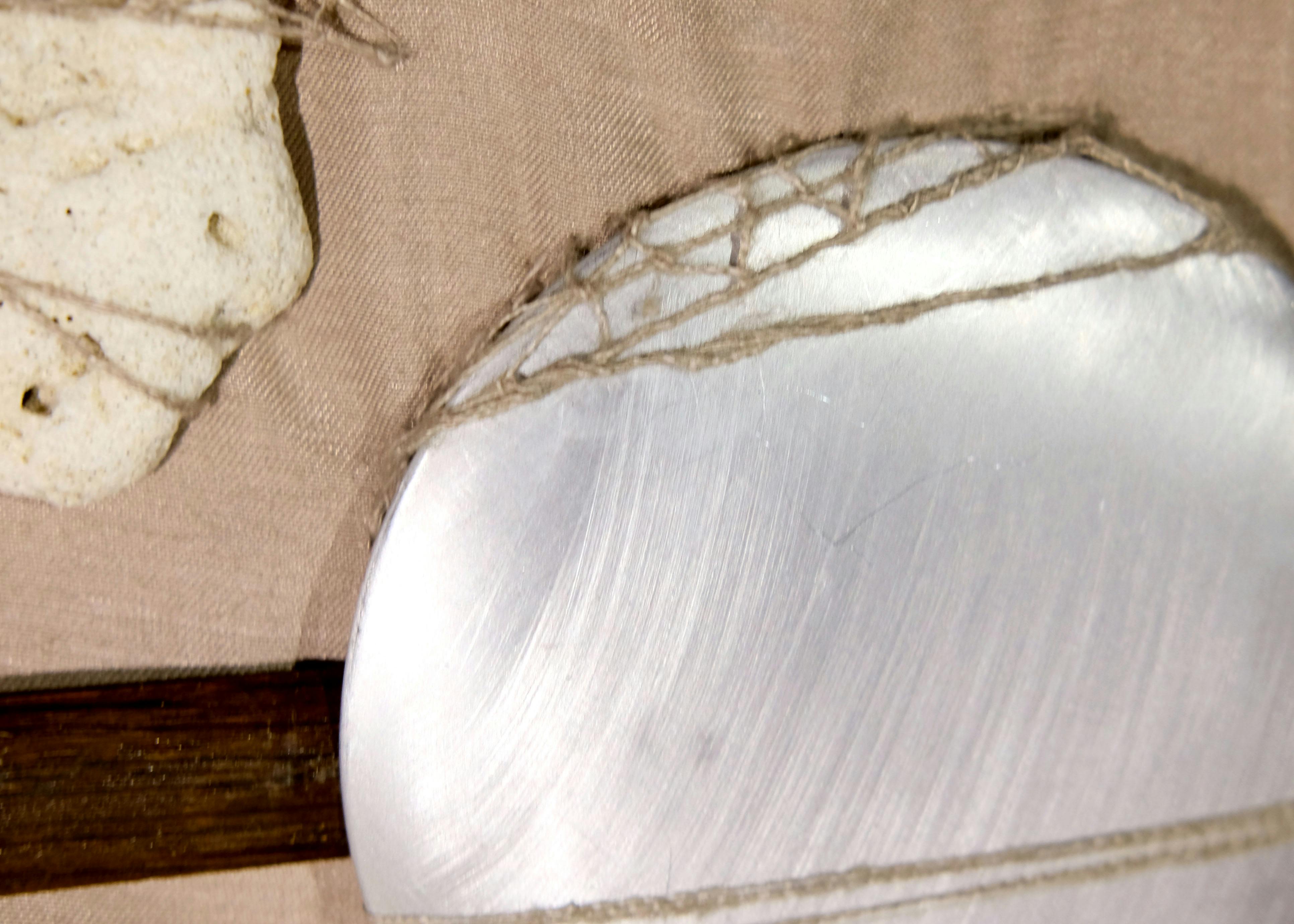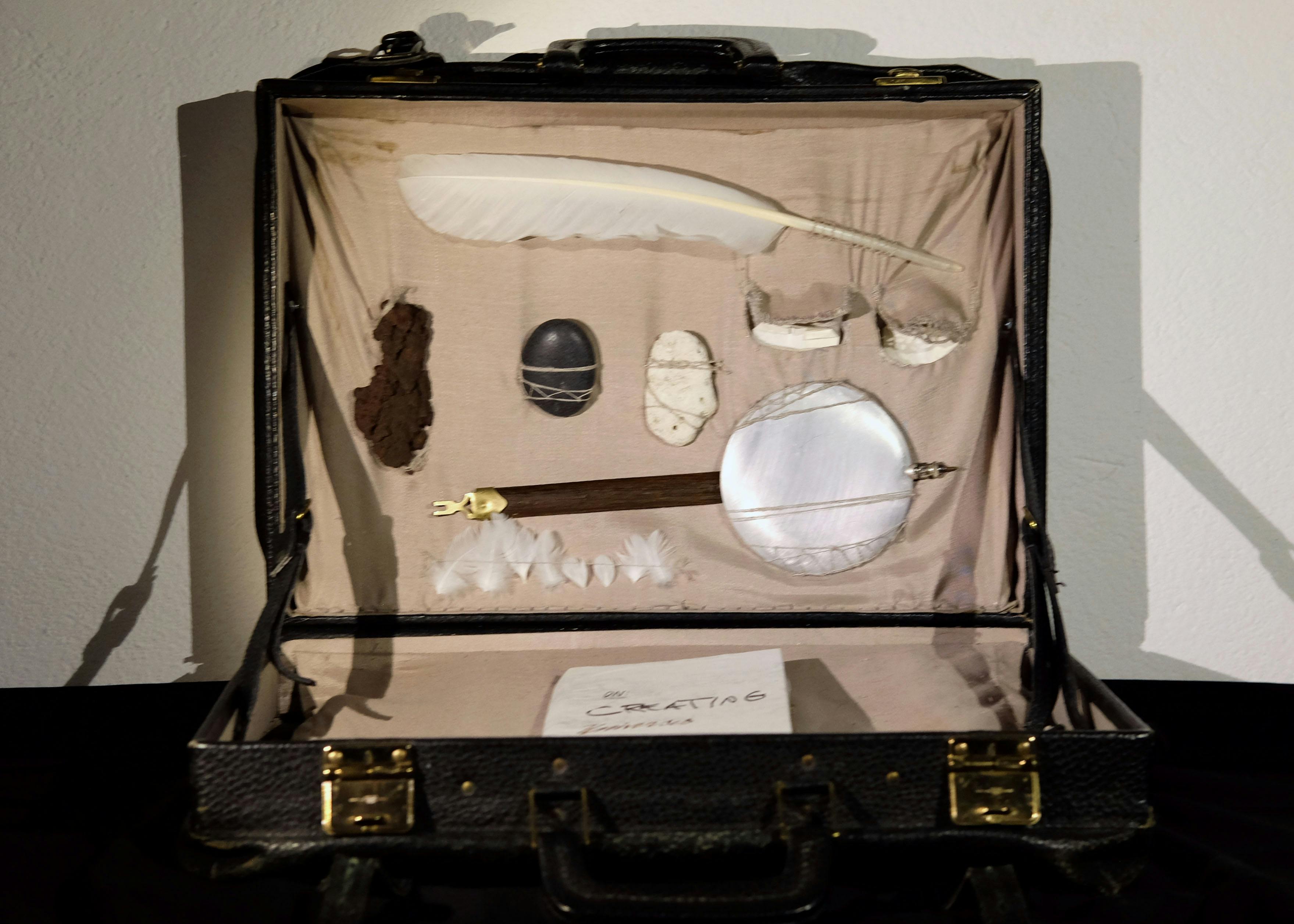 From behind the scenes this has been an amazing journey for me. I have been able to walk in the shoes of the Traveller and in a way discover the universe, maybe as they would have. On the other hand I have also gotten the chance to really immerse myself in my craft, meet new methods and refine the skills I already have.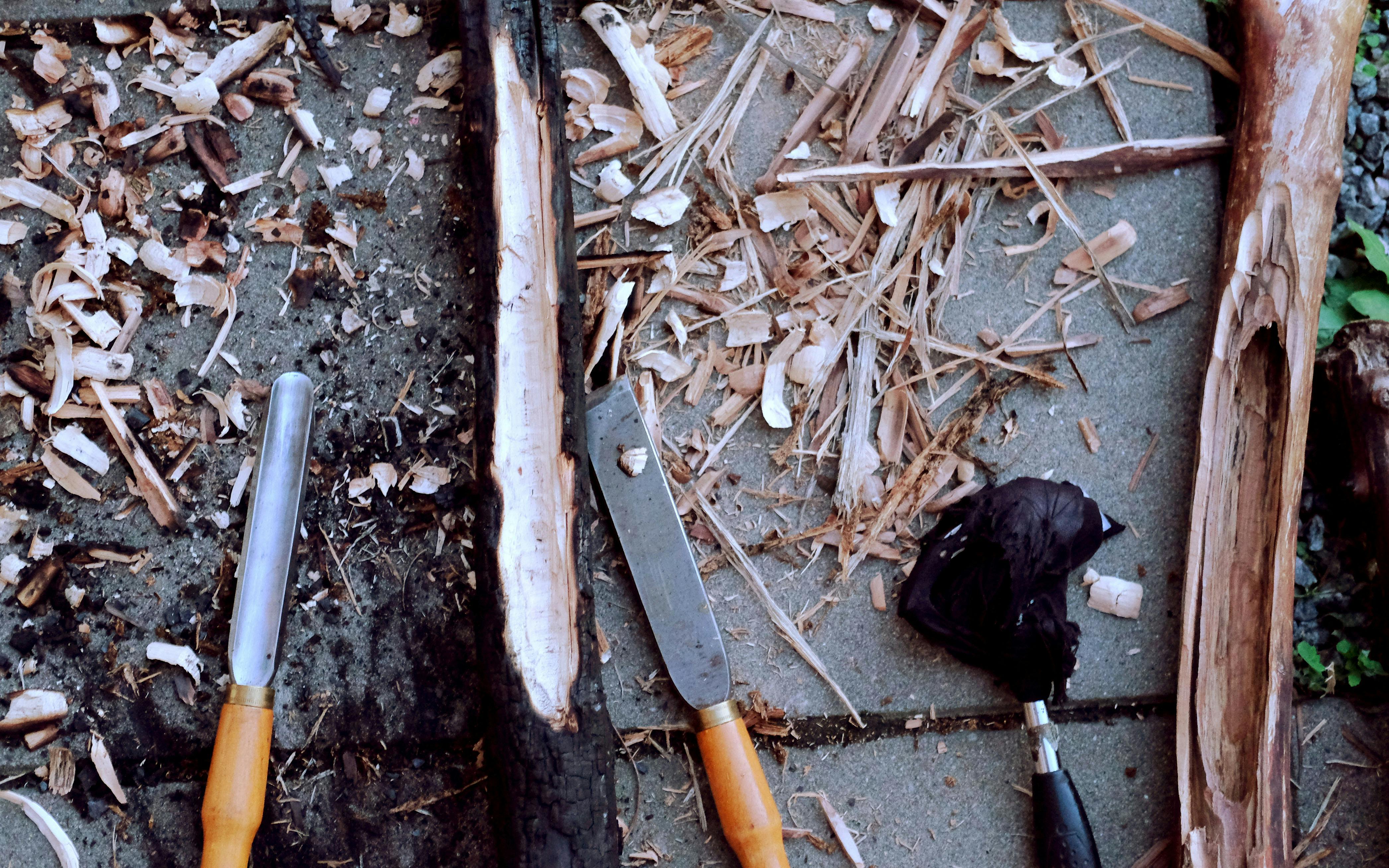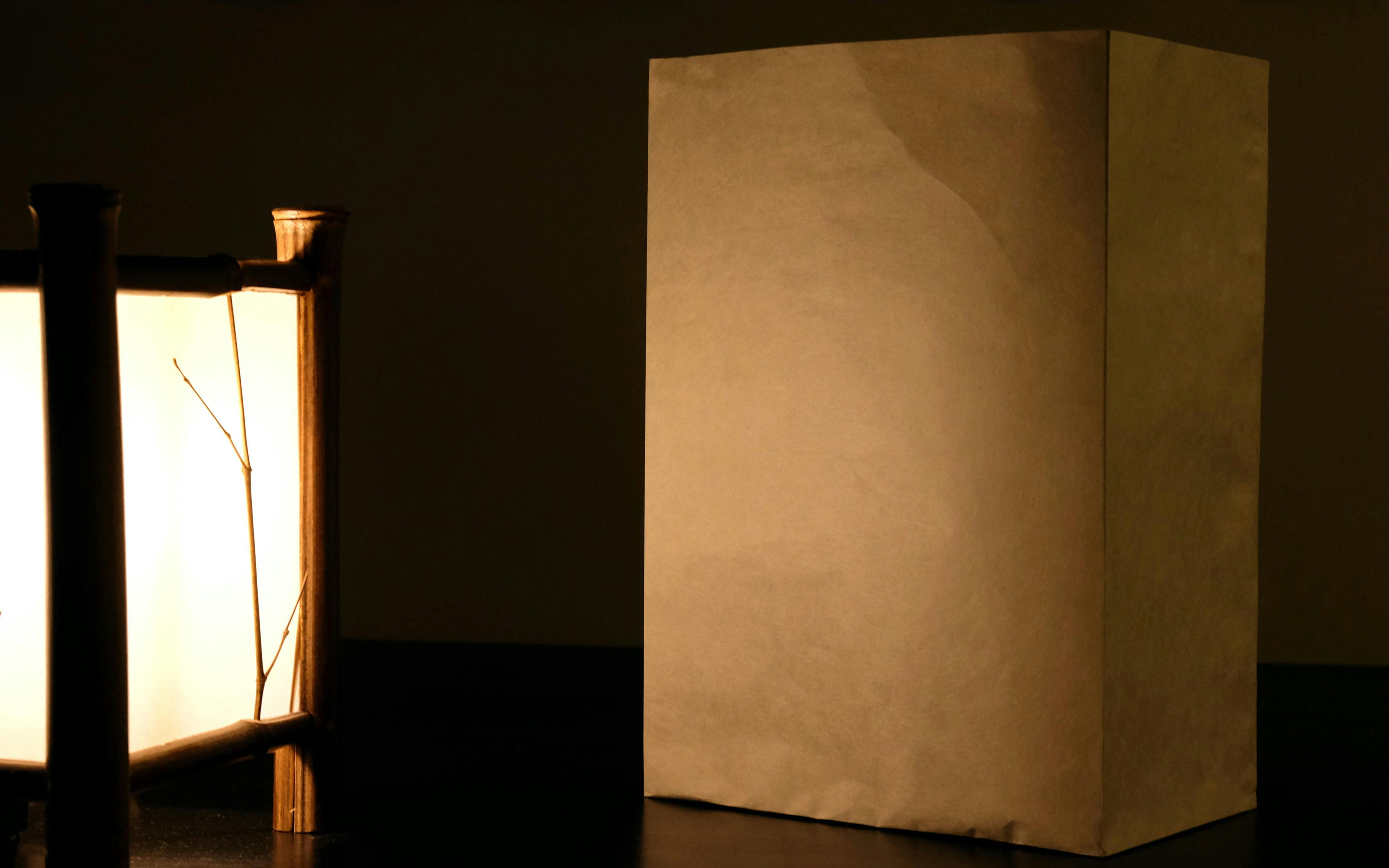 From dead branches in the forest to really fine Japanese craft paper - the trails of this project have really taken me both far and wide.
I've been chiseling wood and discovered, through mistakes, the perfect level of charring wood. I've mixed my own, biodegradable hardwax to finish the surface of the charred wood in a way so that it both can hold water and at the same time not discolour the water that later will be used to paint on a white sheet. I have sewn so small stiches and made so small knots that I am surprised how it's been possible without a microscope. I have made my own, non-toxic and biodegradable adhesives that also are strong enough to withstand constant handling from many different people. I have folded paper bags, of course harvested fibre from nettles and spun it, polished metals and drawn. I don't even know is there is a single craft or technique that I haven't touched in this project. Almost as is the creation of this also has been in a quantum vacuum where everything is possible and everything has become everything!

Mainly my work always centers around the materials' enviroment-ethical aspects. To the extent I can, I make sure to re-use and re-cycle, while also using materials that are biodegradable. My point is that it is still possible to make beautiful, interesting and skilled craft, even is these limitations may seem harsh.

For this project, my only primary purchase has been the craft paper for the Travellers journal. The remaining objects have been eiher found, made of found objects or bought second hand and then modified. The same goes for the tools used.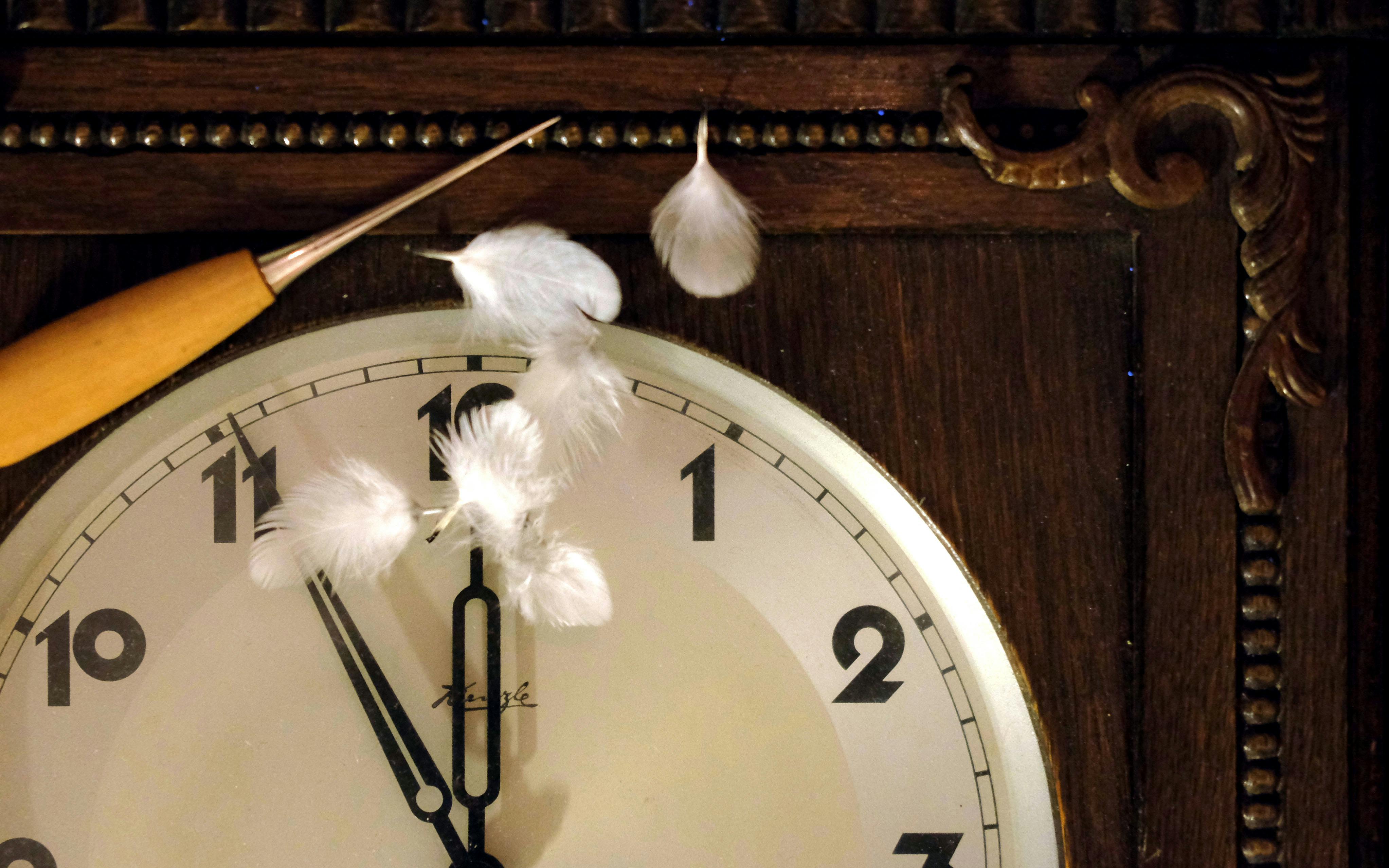 As part of the project I also documented the materials and their histories in a document I attached to the customer. I have never tried making something like this before, and I have never seen anything like it used, but I wanted to be transparent with my choices. At the same time, I also saw that my objects had more to tell. If you're interested in what an artistic table of contents might look like (or material history, as I like to call it), though it is all in Swedish, you can see it here.

Finally I just want to express again how happy I am to have been part of this project, how incredibly interesting and awesome this project is and how excited I am to take part of it in the future! If you found my small part in it interesting, then let me tell you that it is nothing comapred to the dancers' efforts, and the VR-experience is just so cool! In the first release the tickets sold out fast, so I can only recomment to keep yourself updated on this show! You can do that here.

Love and space!